Tip 1: Getting the most out of a High Clearance Knuckle Setup.
This setup is presuming that you have High Clearance Knuckles, CVDs, 25mm Alloy Servo Horn, Drag Link and Tie Rod to match.
First of all you need get your servo horn and a Dremel. At the end of the servo horn where the link attaches to it, there is generally a thickening for strength. This is generally not needed and the thickening should be cut off. I like using the Dremel cutting disk. The photo below shows before on the right and after the cut on the left.
Next you will need to make sure that your Tie Rod sits on top of the Knuckles and the Drag Link sits below the Knuckle arm. I like to use a longer Drag Link as this tends to reduce the angle of the Drag Link at full swing.
Next, attach the Drag Link to behind the servo horn at the lower hole. Use a good quality thread lock to make sure the screw does not unscrew. Both Drag Link and Tie Rod should be sitting behind the servo horn.
Lastly, before screwing the servo to the servo mounts, add a 3 - 4mm spacer between the each. This will push the servo forward enough that the Drag Link clears the diff pumpkin. If you find the Tie Rod fouls on your servo plate, add 1 - 2mm spacers between the plate and axle to lift up the servo a little.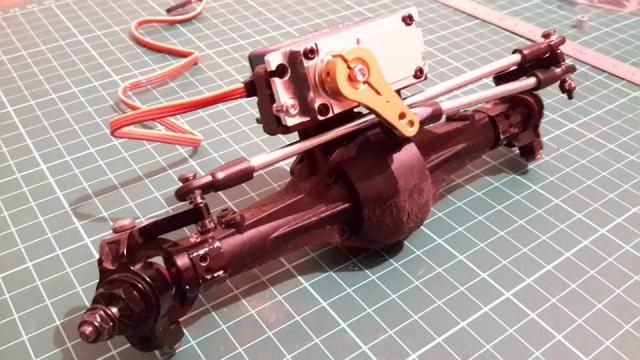 Tip 2: C Hub Alignment Trick
This Tip is to help you align your C Hubs when clocking them with the install of Beef Tubes.
First of all get a piece of angle and put it in your vice. Place the C Hubs on your axle presuming that you have already prepared them for C Hub clocking. Measure the distance between the holes on the C Hubs where the Knuckles attach to. Drill 2 4mm holes in the angle at the same distance.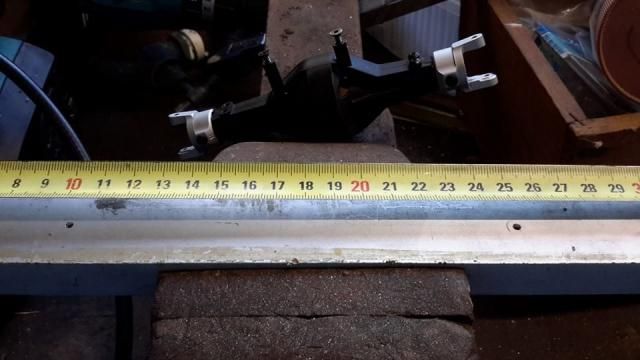 Next get 2 spacers (I used 10mm), 2 long M3 screws and 2 nuts. Screw the C Hubs to the angle with them sitting on the axle. The spacers are used to clear the pumpkin. The axle should now be free to rotate with the angle on C Hub being exactly the same on each side. Clock to your desired angle and drill the holes.